Instruments & Meters
Capillary Method Asphalt Kinematic Viscometer Apparatus Kinematical Viscometer Bath astm d445
GD-265C
100 mPas~2*105 mPas: 100 mPas~2*105 mPas
Heating power:: Two grades; 1000 W (Auxiliary heating) + 600 W (Temperature control)
Bath capacity:: about 23 L
Price: USD 1260.00/1
MOQ: 1 1

Description
Capillary Method Asphalt Kinematic Viscometer Apparatus Kinematical Viscometer Bath astm d445
Double Shell Automatic Capillary Method kinematic Viscometer Apparatus astm d445
This instrument is designed and made as per the industry standard of People's Republic of China SY/T5651 Technical
Condition of Petroleum Products Kinematic Viscosity Tester, GB/T 265 Petroleum products-Determination of kinematic
viscosity and calculation of dynamic viscosity and ASTM D445 Standard Test Method for Kinematic Viscosity of Transparent
and Opaque Liquids. It is suitable to determine kinematic viscosity of liquid petroleum products (Newtonian fluids) by measuring
the time for a volume of liquid to flow under gravity through a calibrated glass capillary viscometer at a constant temperature.
I. Main technical features
1. This instrument adopts LCD temperature controller,having features of rapid temperature control,fast response,small overshoot.
The temperature control accuracy can reach ±0.1℃.
2. The instrument adopts hard glass bath and heat preservation shell(double shell structure).The heat preservation property is good.
Easy to observe the sample.
3. The instrument adopts desktop and all-in-one design.The integrality is good.Convenient to operate.
4. The instrument adopts electric stirring device.The temperature in water bath is uniform.
1. Power supply:

AC(220±10%)V,50Hz±5%

2. Heating power:

1600W

3. Stirring motor:

6W, 1200RPM

4. Temperature control range:

Ambient to 100℃

5. Temperature control accuracy:

±0.1℃

6. Constant temperature bath:

20L,double shell structure

7. Working environment:

Ambient temperature: room temperature~35℃,Relative humidity: ≤85%

8. Temperature sensor:

RTD, Pt100

9. Maximum power consumption:

1800W

10. Capillary viscometer tubes

(Pinkevitch viscometer)7 pieces in total, inner diameter for each:

0.6mm, 0.8mm, 1.0mm, 1.2mm, 1.5mm, 2.0mm, 2.5mm

11. Dimension:

530mm×400mm×670mm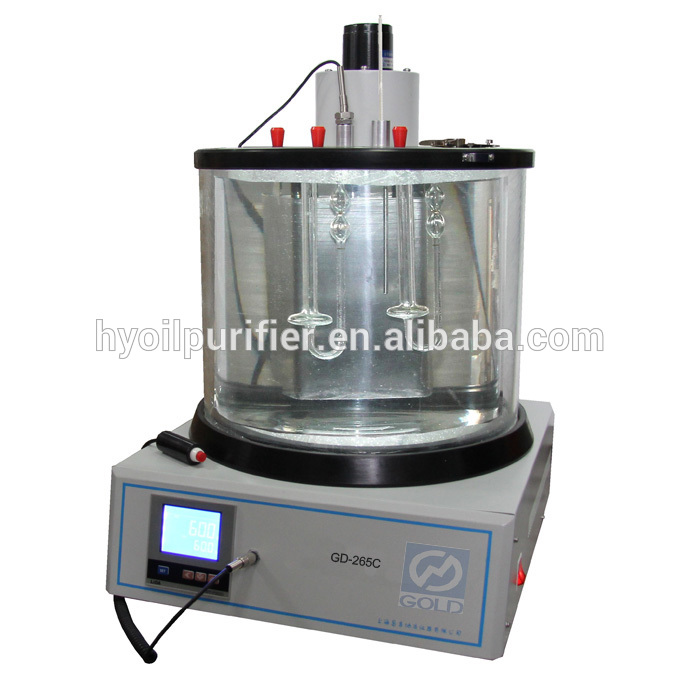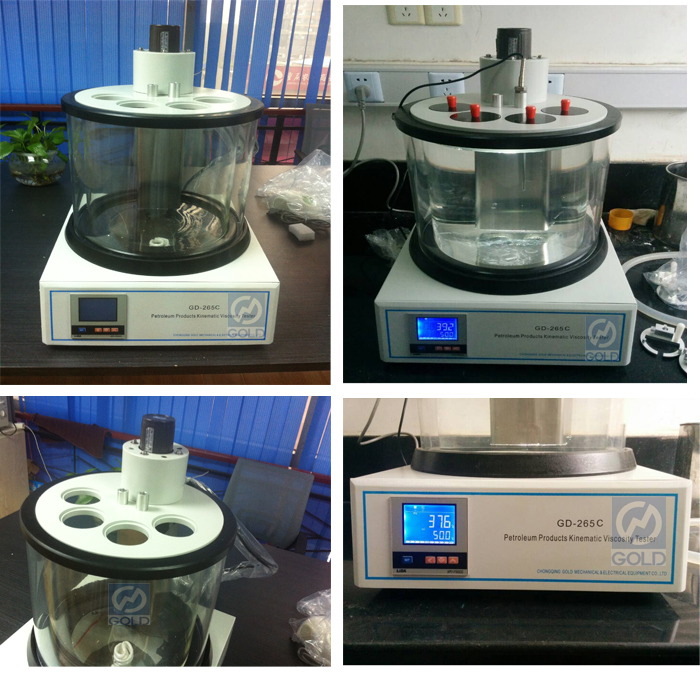 Capillary Method Asphalt Kinematic Viscometer Apparatus Kinematical Viscometer Bath astm d445,
Read More
Petroleum Oil and asphalt lab analyzing equipments,We are a Professional manufacturing and trading combo of Petroleum Oil and asphalt lab analyzing equipments for more than 15 years Trading experience and good quality moderate price. Our factory was

Read More

Contact

Tel: +862362984892
Address:
Office : Jingtai Building 9-10 , Nanping Nanan District , Chongqing, Chongqing, China, 400060

H5响应式定制设计
26种语言,SEO营销型网站
---
H5/响应式/营销型企业网站; 26种语言扩展;
覆盖: 英文、法语、德语、西班牙语、葡萄牙语、俄语、阿拉伯语、波斯语、日语、韩语
了解更多